Edinburgh
BOOK NOW
Fritz & Matlock
Part of the Main in association with Pleasance
3rd Aug 2022 - 29th Aug 2022
The Attic - Pleasance Courtyard
2:05pm
Suitable for ages 12 and above
Overview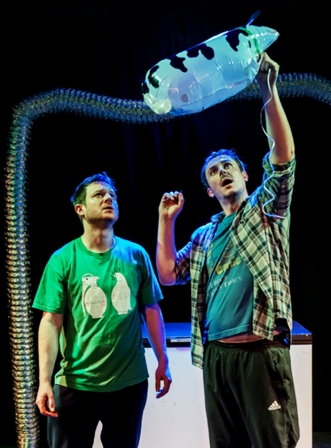 Important information:
This show contains strong language, themes of substance misuse, references to sexual assault, suicide and animal abuse.
In a Sheffield basement, two men try to bury the bodies of their past to find a hopeful future. With no way out, will Fritz make it to his wedding? Will Matlock get away with murder? Or will the police finally raid the marijuana grow in the attic?
A new dark comedy with a fresh take on men's mental health, the care system and addiction.
2021 Offie nominees for Lead Performances and Most Promising New Playwrights.
★★★★★
TheReviewsHub.com
- "Reminiscent of the works of Beckett and Pinter."
★★★★
Stage
There will be captioned performances on 14, 21 and 27 August using open captioning.
There will be relaxed performances on the 11, 18 and 25 August. 
Relaxed performances will not include any changes to the content, sound or lighting elements of the production. Audience members are welcome to move about, make noise and come and go as they wish.
For more detail about what to expect at a relaxed performance of Fritz & Matlock, please contact the box office or email [email protected]