London
BOOK NOW
PoliTITS by House of Burlesque
House of Burlesque
1st Feb 2022
Main House Cabaret - Pleasance London
7:30pm
Suitable for ages 16 and above
Overview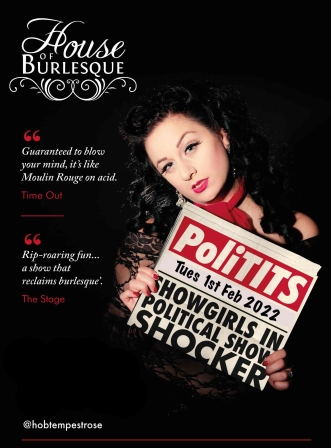 Important information:
This show contains strong language and partial nudity
SUBVERSIVE SHOWGIRLS IN POLITICAL SHOW SHOCKER!
Holding up a glitter encrusted mirror to the crazy times we are currently living in, House of Burlesque are here with a show going right back to the subversive roots of British Burlesque. In a world where you can't trust the news, why not get it from a showgirl?
Inspired by the early comedic traditions of Burlesque, Spitting Image, Have I Got News for You and the Kit Kat Club - expect high glamour, provocative pop culture, jaw dropping costumes and the hottest take on current events.
The revolution will be crystallised.
Unapologetically innovative, HOB, led by industry pioneer Tempest Rose, has redefined burlesque for the 21st Century, with previous residencies at The Hippodrome Casino Leicester Square, The Underbelly Spiegeltent on Southbank, Christmas in Leicester Square, Sway Bar, The Shard and Vaults Waterloo, and appearances on BBC 1; MTV, Channel 4, ITV2, The Metro; The Times; Time Out; The Evening Standard Magazine; Women's Health Magazine; Vintage Life and Stylist Magazine.
Please click the link below to download a Large Print version of the show synopsis. Please email [email protected] if you need any further assistance.
House of Burlesque Large Print Brochure .pdf