Edinburgh
BOOK NOW
Shit-faced Shakespeare: Macbeth
Shit-faced Shakespeare
3rd Aug 2022 - 28th Aug 2022
Pentland Theatre - Pleasance at EICC
10pm
Suitable for ages 16 and above
Overview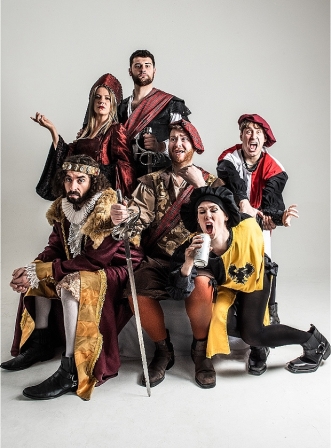 Important information:
This show may contain audience participation, nudity, scenes of a sexual nature, scenes of violence, strong language and themes some may find distressing.
The smash-hit, internationally acclaimed, multi sell-out Fringe phenomenon is back with their hilarious combination of an entirely serious adaptation of
Macbeth
, with an entirely shit-faced cast member. What could possibly go wrong?
Shit-faced Shakespeare
seeks to introduce a new generation of theatre-goers to the works of the Bard by reviving the raucous, interactive and vibrant nature of Elizabethan theatre with a very modern twist – reminding them as we go to always enjoy Shakespeare responsibly.
"A great night out to get properly Pucked up. It's what Willy would have wanted." ★★★★
Time Out
. This is Macbeth Like you've never seen it - Seriously
Get together for a round of drinks and brush up on your iambic pentameter: Shit-Faced Shakespeare is finally back at The ED FRINGE, offering a hilariously sozzled version of Macbeth. 

The story of the murderous Macbeths is the stuff of legends: an ambitious husband and wife, a trio of weird sisters, a startling prophecy… and a bloodstain that just won't wash out. So far, so Shakespeare. But what happens when you add a drunk actor to the mix? 

Tipsy witches and legless ghosts… this definitely isn't the dusty play you studied at school. For a laugh-out-loud, unconventional take on the bard's most loved works, look no further than Shit Faced Shakespeare tickets. 
"I have no idea how they do it, as there wasn't a soul in the audience who wasn't in stitches from start to finish" ★★★★★ Broadway Baby