London
BOOK NOW
SHUGA FIXX vs The Illuminati
Guttersnipe Theatre & Poppy Pedder in association with the Pleasance
14th Jun 2022 - 18th Jun 2022
Downstairs - Pleasance London
8pm + Matinees on Select Dates
Suitable for ages 15 and above
Overview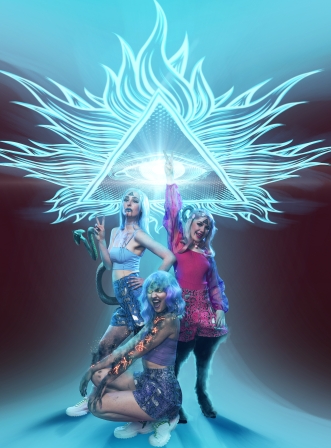 Important information:
This show contains swearing, violence, sexual references & loud music
One girlband versus the satanic inner circle. A new musical comedy from
Guttersnipe Theatre
and
Poppy Pedder
featuring tearaways, rhinestoned lizards and original pop hitz.
SHUGA FIXX vs The Illuminati is a sugar-coated, outrageously silly, high-camp antidote for these strange times. A satirical comedy exploring the dark absurdity of conspiracy theories, celebrity and the rise of fear culture.
"This light-hearted, poptastic parody is a ridiculously fun hour of entertainment"
Reviews Hub
Praise for previous productions:
"Trip is a truly thrilling piece of theatre"
The Stage
"One of the most detailed and well-crafted performances of this year's Fringe" ★★★★★
Broadway Baby
"A company to really watch out for" ★★★★
LondonTheatre1
"Sharp, clever new writing from young, raw talent"
Marie Claire
★★★★
The LIST
Please click the link below to download a Large Print version of the show synopsis. Please email [email protected] if you need any further assistance.
SHUGA FIXX Large Print Brochure .pdf